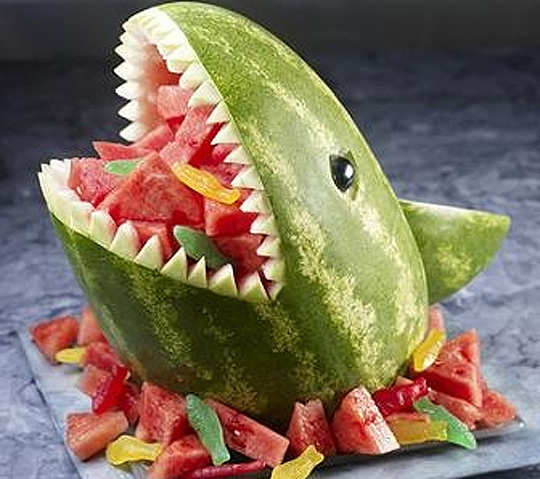 I've never been a big lover of birthday cake and as we become more and more health conscious, more and more parents are starting to look around for, and offer, alternatives to the traditional birthday cake.
How about a lovely fruit salad? It sounds great to me, but I can guarantee my almost six-year-old son would be LESS than impressed.  UNLESS it was something like this Shark Fruit Salad - which looks properly awesome and, dare I say it, is so cool that kids at a party may even choose it instead of cake!
Okay, so maybe not - but I do think making fruit fun like this will help you if you're having trouble convincing your little one of its healthy merits.  Kids couldn't care less, below a certain age, about healthy - but they love 'COOL!'
I found this on Pintrest - there aren't any instructions, just the picture, but I don't think you're going to need a degree in brain surgery to figure out how to do it; a few practice runs might be required though.
And, you know, you don't even have to have use this as a birthday cake alternative - you could just do this for kicks one day over a weekend or during the school holidays; fruit carving is no longer just for Halloween!
If you have a bash at this, or come up with any other clever ideas, send in some photos - we'd love to see them.