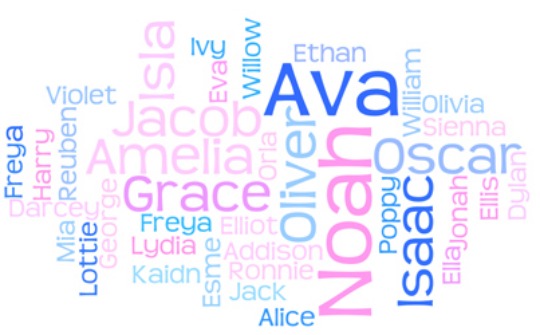 The list of the most popular baby names for 2014 in the UK was recently released, and analysts have been looking at the biggest climbers and fallers in popularity to see why they have shifted, and to try to predict popular names for next year.
As usual TV shows and celebrities have had an effect on the names we choose for our children in the last year, and this is likely to carry on being the case in 2015. The Frozen Effect meant that Elsa and Hans have become much more popular, and Breaking Bad is responsible for the rise of Jesse, Walter and Skylar. We love our big screen heroes too and Loki, Logan and Primrose are getting more popular too.
'Old fashioned' names have been very popular for several years now, and were predicted to become less so as the trend started to reverse, but this has not been the case. With girls names especially families are looking to their great grandmothers and siblings of that generation for inspiration, with names like Edith, Violet, and Mary growing significantly. Other names that were very popular pre-war have also seen a revival on a smaller scale, like Ethel and Betty and this seems likely to continue in 2015.
With another Royal Prince or Princess on the way there will be much speculation about what William and Kate will call their child, and whichever name they choose will have an effect on it's popularity - when they chose George it actually dropped down the chart!
So if you are currently considering baby names has this given you any ideas? With both our boys we tried to avoid the most popular names, but unknowingly managed to pick ones rising in popularity so that it's pretty often that we come across other children with the same name. I know someone else who was convinced that they had chosen a really unusual name, only for it to jump to the top of the chart that year!
So here are the top tens for 2014:
For Boys:  Mohammed,  Oliver,  Jack,  Noah,  Jacob,  Charlie,  Harry,  Joshua,  James,  Ethan.
For Girls:  Sophia,  Emily,  Lily,  Olivia,  Amelia,  Isla,  Isabella,  Ava,  Sophie,  Chloe.