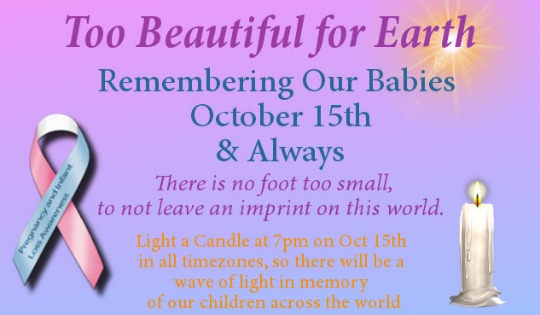 You may or may not know that this week is "Baby Loss Awareness" week with it ending today, October 15th, with "The Wave of Light" at 7pm. It's an opportunity for parents, family and friends to remember and acknowledge their babies who have died.
So often when parents lose a child friends and family are at a loss how to help, what to say, and this campaign is trying to raise awareness, to help people find support at a time when they need it most.
If you've lost a baby it can feel very lonely. I remember thinking that no one could understand how I felt and it shocked me how the world just carried on and expected me to do the same. No matter what you own experience is or how you felt, it can never hurt to know where to look if you do need additional support. Sands is an excellent site for parents and many people, including myself, have found it an incredible support.
If you want to find out more about the Wave of Light campaign you can read about that here. 
Everyone is different and deals with grief differently, there is no magic formula or right and wrong. Whether you choose to take part or not is up to you and only you.