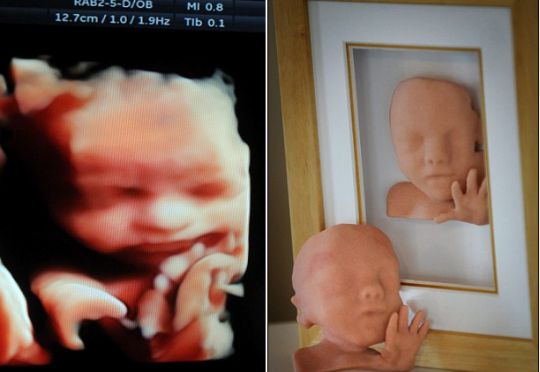 We like to discuss news stories at PlayPennies and sometimes they cause a difference in opinion. This is exactly what happened when we read about the scan company that offers a 3D figurine of your 28 week scan for just £150.
Private scan company Baby:Boo, who offers the unusual service, is run by Katie Kermode, a mother of two. Who set up the business after sadly suffering two miscarriages.
For the £150 service, it is recommended that a scan is carried out at  around 28 weeks of pregnancy when the baby has fully developed. As the baby is bigger at this stage, the model is made of the babies head. The keepsake models can be given in a giftbox or mounted in a frame to hang on the wall.
Baby:Boo founder Katie Kermode suggests that even though her models can be perceived as odd, that she sees them no different from a cast of a babies foot or hand. Do you agree?
Pregnancy is one of the most anxious times of a woman's life, some of us will book private scans to check up on our growing foetuses and others don't. We all deal with our fears in different ways. Some will perhaps, look into this 3D model kind of service, now that it's available.
Let us know what you think of these... spoiling the surprise of seeing your little one's face in the 'flesh' or a great momento of when you carried your baby?
Image Credit: rossparry.co.uk