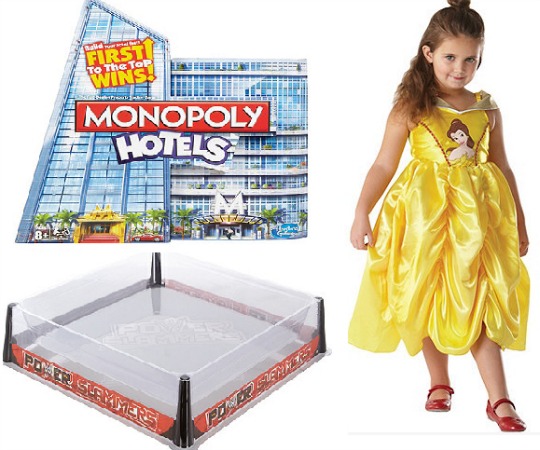 Debenhams aren't known as the cheapest retailer, when it comes to toys. They do have a Up to 40% off selected toys just now, and they start from just £4.80. Plus for this week only, Debenhams are offering FREE delivery on ALL toy purchases. This means you can grab a few good toy buys for those Christmas stockings.
November is passing pretty fast, and if you are like me then you will find that you are in need of a kick up the butt to get that Christmas shopping completed. Here's your chance to pick up the bulk of the little presents.
This Disney Princess Belle Dress* was £16 and is now only £8, so 50% off rather than "up to 40%", but we forgive you Debenhams, since this is such a good buy.
Monopoly Hotels* is the latest spin-off game from board game giant Hasbro, get it for just £8 delivered. I am not sure how it works but I am sure it would please any Monopoly fans.
If your little one is into wrestling and has some figures then this WWE Power Slammers Ring* for £4.80 delivered, would be a good shout.