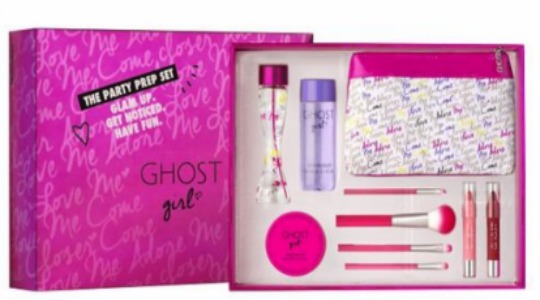 We told you earlier in the week that Boots have released this year's Christmas Catalogue and now they have launched their first Star Gift of the year. We are super excited. From now until Christmas, Boots will have numerous Star Gifts picked from their Christmas Catalogue at great value prices. They only stay at the special price for a limited time and tend to sell out very quickly, so you need to be fast. The first one is the Ghost Girl Party Prep Set from Boots.com for just £29.99.
Ghost Girl is the newest fragrance by the premium Fashion retailer and is aimed at teens and young adults, so if that's whose gift you are looking for, you may want to snap this up.
In the set you get: a bottle of Ghost Girl 50ml (which is £34 on it's own at Boots), Bath bubbles 150ml, Body butter 50ml, Lip crayon in 'berry', Lip crayon in 'blush', FOUR cosmetic brushes and a Cosmetic bag.
You can Click and Collect the Ghost Girl Party Prep Set for FREE from a Boots near you or pay £3.95 to have it delivered to your front door.