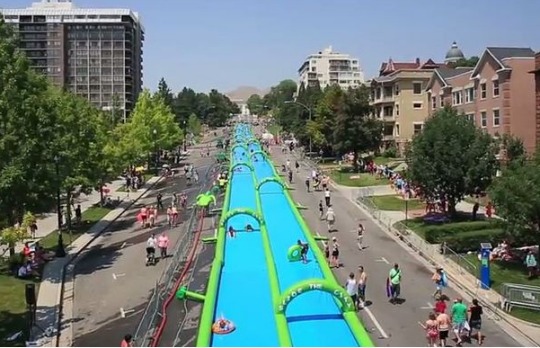 Heard of Slide The City? You are in for a treat. It's a HUGE water slide that has been taking over complete streets in US cities, and the amazing news is that it's heading to the UK this summer!
News has been filtering through for a couple of days and earlier today the Manchester Evening News website* has given some firm details of dates, locations and prices for when Slide The City will be in Manchester, so it looks like it's actually happening.
We have heard that it will be touring several cities in the UK, including London on June 13th and  Bristol (Shepton Mallet) on June 20th. It's coming to Heaton Park in Manchester on July 18th, and prices will be £10 for a single slide, £20 for three slides, or £35 for a VIP slide with as many goes as you like and a goody bag.
You can use the link above to check when it's coming to a city near you and to join the waiting list for tickets! Are you as excited about this as we are?