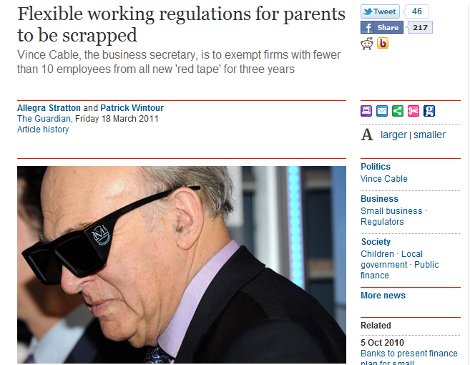 So, the right to request flexible working hours is to be scrapped, as I'm sure you've all heard? According to this article in the Gaurdian, it's part of the governments plan to 'cut red tape', a plan in which 21,000 regulations will be 'audited'.
Vince Cable, who before the elections championed the cause of single mothers, says the regulations to be cut include such archaic rules as "rules about trading with the enemy – Siam, apparently - to the Code of Practice on Noise from Ice Cream Van Chimes (1982) which states it's an offence to sound chimes 'so as to cause annoyance'."
It's nice to know that a regulation that affects tons of parents, single or not, around the country is lobbed into the same category as noise from ice cream vans.
In a follow up article on the same day, Lisa Ansell states, "For many single parents, this will be the difference between working and not; but make no mistake this affects all of us."
While I'd like to think that someone sat in an office somewhere calculating the number of working single parents in the country, multiplied by the assistance they are now going to need since they will no longer be able to work – or the cost of poverty on a society, since childcare doesn't come cheap, or worse, the cost of children left to roam around on their own, raising themselves - I wonder whether they've even considered couples in their numbers.
It's certainly not just single parents who are going to suffer with this! I know plenty of couples where one parent works flexible hours so as to be able to manage child care, family life and income. If they have to choose between losing their jobs or having their children looked after it will have a massive impact on the family unit. Are we being forced to return to the "latch-key" way of raising children?
As Ms. Ansell says, it was never a right to flexible hours, but it was a right to a fair consideration of your request. And as she continues, "In the short term, the removal of this right is yet another coalition policy that will force mothers out of the workplace and into dependence on their partners - assuming they have them - and a receding state. In the long term this is a policy that halts a slow progress towards equality and was having untold benefits for British businesses and families."
I wonder what the numbers are of mothers and fathers who will no longer be able to work at all? And then I wonder how many of the people involved in the scrapping of this regulations won't either?