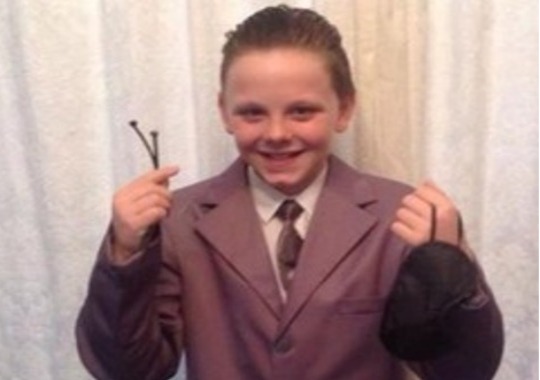 A Manchester school boy was excluded from his school's World Book Day event today because of his costume choice: he came as Christian Grey from 50 Shades of Grey.
The school told Liam Scholes, 11, that his outfit was 'offensive' and asked him to change.
His mother, Nicola, didn't see what the big deal was, as he hadn't read the books, but knew who Christian Grey was because... well, it's everywhere right now. She also felt that "Christian Grey has been the most talked about book character for the past few years."
I can see both sides of this and for me had it happened in a Primary School I would be outraged but it was in a Secondary School and as inappropriate for an eleven year old to dress up as anything sexual, it was done in a jokey way amongst older children.
Would I have asked the boy to change if I was his teacher? No, I would have told him to lose the cable ties and that's about it. When older children, say ones that attend Secondary School are to dress up, do we expect them to turn up wearing Elsa or The Very Hungry Caterpillar costumes?
What piques my interest about this is I am doubtful that the school excluded everyone that wore 'age inappropriate' costumes. However, if the school didn't take some form of action then I am sure there would have been uproar from the parents.
Play it safe with these costumes from the ELC*! HE HE!
It's definitely a tricky one, and we would love to know what you have to say on the matter.