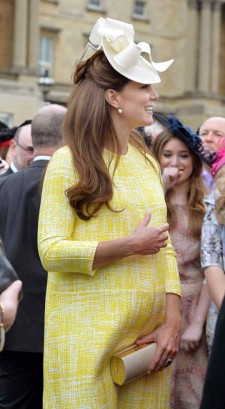 So apparently today could be the day the Royal Baby arrives.
According to the Telegraph, a convoy of cars was spotted in Kate's home town of Bucklebury this morning.
The paper reports:
"OK, this may or may not mean anything, but journalists are supposed to report what they know, so here goes. Our sources in Bucklebury have reported seeing a two-car convoy of Jaguars, with police motorcycle outriders, heading towards the M4. The Middletons don't usually have a police escort unless Kate is with them, but who knows? No pix, sadly, as our source was driving at the time they spotted it."
So what do you reckon? My money's on a birth announcement just in time for the evening news.
Now before y'all start telling us you don't care, I'm only interested because I have a cold bottle of fizz chilling in the fridge and it would be rude not to open it if today turns out to be the day the Duke and Duchess of Cambridge welcome their baby - fourth in line to the throne - into the world.
Oh, and if you *do* care about Royal Baby news, then keep a close eye on @KensingtonRoyal on Twitter - the Royal Baby news will be announced there first, and whoever's managing the Twitter account has clearly been having some fun keeping the Royal Baby watchers on their toes.
Yesterday they tweeted:
"The Duke and Duchess of Cambridge introduce their son Prince George to the world for the 1st time #ThrowbackThursday"
It promptly sent the media into meltdown, before everyone realised it wasn't really baby news at all.
But like I said, I reckon it's only a matter of hours now before there's some real Royal Baby news to report...