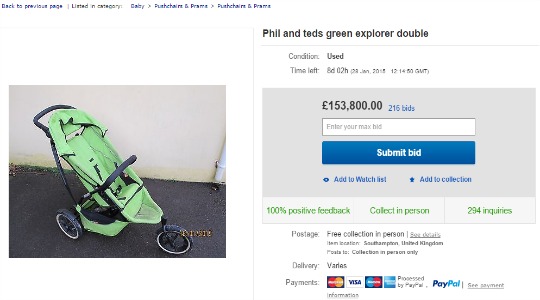 This week the internet has been awash with funny videos, funny articles but the funny that caught our eye was an eBay listing. eBay Seller ukjoel25 has listed his Phil and Teds Green Explorer Double pushchair for auction BUT you just have to read what he has to say about it.
Currently sitting with 216 bids and at £153,800, the "Green Monster" as described by this bedraggled father has caught more than our attention it seems.
In his description of the pushchair he goes on about the fact his other half showed her intentions of having children by purchasing the Phil and Teds, and as it's a double that she clearly had an agenda for more than one child.
He goes on to say that it's had many bodily fluids all over it, as well as it's fair share of Ella's Kitchen meals.
Why has this gotten so popular? I reckon because it is SO close to the bone. I can certainly relate to elements of this, nothing remains immaculate with kids around.
I suggest you read the questions too, which are responded equally as humorous by ukjoel25. We say thank you ukjoel25, for giving us a giggle that we can all relate too.
I am secretly routing for you that you get a good price for that buggy!
Can you relate to this poor dad? Do your kids drive you to distraction? Let us know over on our Facebook page.
 Thanks to ebeneezer on HUKD