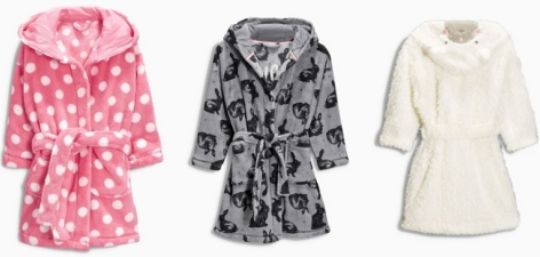 If you've bought the following kid's robes from Next* they're being recalled due to the cotton jersey lining not meeting the stringent flammability requirement set out in the UK Nightwear (Safety) Regulations. The robes affected are pictured and are numbered 799768, 790152, 936100 respectively.
Next advises that "you immediately stop using them and contact us." To arrange a return call 0333 777 8185 or you can return them to your local store for a full refund, if this would suit you better. If you have given any of these items as a gift, please ask the recipient to get in touch with Next. If you'd rather email Next you can contact customer services HERE*
It does worry me as a parent that these items are still slipping through the net. Although nightwear currently has stringent tests, Claudia Winkleman recently hit the headlines when she spoke out about how her daughter's supermarket bought Halloween costume caught fire causing life threatening injuries. Retailers then assured consumers that they would be more vigilant with regards to testing and the products they sold.
I doubt any parents are allowing their children near naked flames on a regular basis but I'd still like to feel more confident that the items I buy on the high street for my daughter have ALL been properly tested and are as safe as they can be.