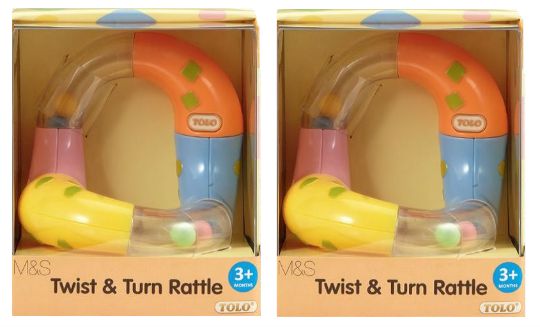 Marks & Spencer have issued a product recall on their baby Twist & Turn Rattle as there is a manufacturing fault. The rattle contains small balls and there is a possibility that they could come out of the toy and present a choking hazard. If you have one you should stop using it and return it to Marks & Spencer for a refund.
You can read the full recall notice here, and these are the main points:
Twist & Turn Rattle - T79/02784/5970.

M&S has established that some of the rattles pictured below have been affected by a manufacturing fault. As a result, there is a possibility that the balls contained inside could be released. Whilst no injuries have been reported, as these small pieces could present a potential hazard, we are recalling the product and advise customers to stop using the item.

No other M&S products are affected.

How to return

Customers who have purchased this product or received it as a gift are asked to return it immediately to any M&S Store (except Simply Food, Outlet or franchise stores), where a full refund will be given.

The safety of customers is our top priority and we are very sorry for any inconvenience caused.

Any customers who have any questions regarding the product should contact Customer Services on 03330148555.
If you have one of these then please don't let your baby play with it, and if you know anyone else who has this toy please share this information with them.
Thanks to Bitterwallet for the information.