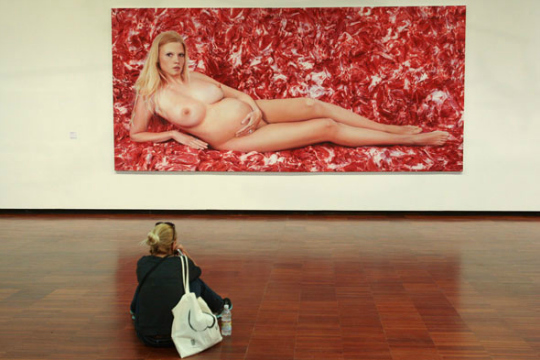 Call me a prude if you like, but I'm just not a fan of this modern trend for parading naked baby bumps for all to see.
I have one of my own at this very minute (though it's currently clothed, you'll be glad to know) and I can't for the life of me understand why anyone would want to see it in all its pasty, stretch-mark-riddled glory. Admittedly it's probably a darn site less aesthetically-pleasing than the average A-lister's baby bump but still, what IS the obsession with getting yer bump out for anyone and everyone to ogle? *Shudder*
Model Lara Stone must get what it's all about though, because last week at the 55th Venice Biennale festival artist Marc Quinn unveiled a nude portrait of her, complete with baby bump on display. The unusual painting depicts the heavily pregnant Dutch model reclining on a bed of meat. Make of that what you will. (Personally it just made me wonder if my morning sickness had suddenly returned with a vengeance but that's another story.)
Stone and hubby David Walliams became parents for the first time last month. I think I'd prefer to open the newspaper to find a snap of their bouncing baby boy rather than a painting of her naked belly surrounded by raw lamb chops. If that makes me weird, well, so be it. What say you?