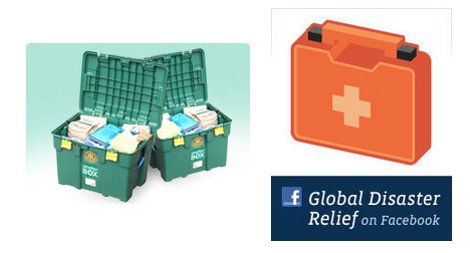 I haven't written about Japan or the horror that is unfolding there yet, because, honestly – it's just too disturbing. At times like these, I can't help but hold my little girl a little tighter and try to erase those frightening thoughts that fill my mind. I can't imagine the horror of not only loss, but the limbo of not knowing at all what the future holds.
The term "Disaster fatigue" has been doing the rounds since 2008, if not before, but according to Conrad Walters from the Sydney Morning Herald, "A string of natural disasters - from Haiti and Pakistan to Queensland and Victoria - has not dampened the willingness to give, say charities helping victims of the Christchurch earthquake."
While most of us can't give up our jobs, take leave long enough to make a difference, or actually go to a disaster ravaged area to provide hands on help, there are other things we can do:
On the British Red Cross site, you can donate £18, £25 or £50, or your own amount.
Join this Facebook page for news of what's being done and by whom.
Save the children have people on the ground and an emergency response team is heading to Sendai, the closest city to the earthquake epicentre, and other affected areas. They will use the £1 million they are hoping to raise to set up child friendly spaces to provide a protective environment where children can spend time with other children and trained teachers. This service will allow parents much needed time that they can dedicate to investigating food sources, work, accommodation and locating other friends and family.
Shelterbox responds instantly to disasters all around the world delivering aid as quickly as possible to the people who need it most. Shelterboxes contain a disaster relief tent for a family of up to 10 people, a children's pack containing drawing books, crayons and pens, survival equipment including thermal blankets and insulated ground sheets, mosquito nets, water purification system, a basic tool kit, a wood burning or multi-fuel stove and a lightweight waterproof box. And you can track your box and where it's gone too.
International Medical Corps is sending relief teams, as well as supplies to bring critical medical care to those affected.
This project will dispurse funds to organizations providing relief and emergency services to victims of the earthquake and tsunami. GlobalGiving is working with International Medical Corps, Save the Children, and other organizations on the ground.
Many charity organisations have not even set up disaster funds for Japan yet, but more information should come forward in due course.
Does anyone know of any other ways to donate to Japan? Or do you feel that as a wealthy country, they don't really need our help?