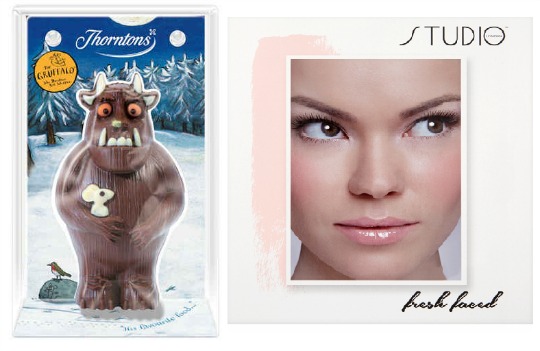 Woo hoo! Sales, sales, sales! We all assume that the January sales are ALL about those luxury items that aren't a neccesity but Superdrug have slashed the price of those day-to-day essentials too. Let's face it, we all struggle on to our next payday after Christmas, so being able to grab some cheap toiletries for the whole family is a massive bonus. They do have desirable items reduced too.
The Superdrug sale is only available online just now, but will come into stores on Boxing Day. The toiletries sale starts from 49p and can be found here*.
If you are on the hunt for some reduced Gift Sets as Santa has brought you some Christmas money, then you are in luck. There's heaps of them with up to 1/2 price off and some with a bigger discount. This Studio London Small Cosmetics Bag* was £6 and is now 99p.  This Gruffalo Chocolate Model* has been reduced from £6.99 to just £1.99.
There are a lot of sell outs, but Superdrug have a tendency of bringing stock back in so keep an eye on it. Be quick on adding to basket on those bargains that are in stock to avoid disappointment.