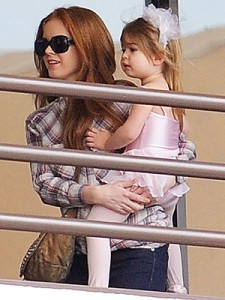 Not so long ago the extra-curricular activity du jour for celebrity toddlers was break-dancing, following the trend-setting sight of Cruz Beckham throwing some moves on stage when his Mum was on tour with the Spice Girls.
But it seems things are rather more conventional for little ladies. Judging by these pics, no toddler celeb's life is complete without a pink tutu and a pair of satin ballet shoes.
Check out newlywed Isla Fisher and  her 2-year-old daughter, Olive. They were snapped leaving a dance studio in California last week. Can't you just imagine Dad, Sacha Baren Cohen, helping his little lady get her pirouettes perfect? Now there's a pic we'd like to see!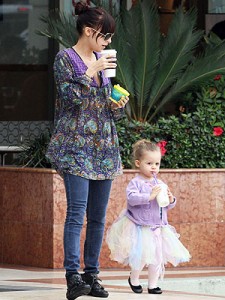 Likewise it seems Nicole Richie's adorable two-year-old daughter Harlow is also something of a dance diva in the making.
Harlow and mum Nicole were papped indulging in a little well-earned refreshment after attending a dance class in LA last week.
As you might expect given that Nicole Richie isn't exactly famed for her love of all things conventional, Harlow's tutu is a little more extravagant than plain old boring pink ones. But here in the PlayPennies office we're loving the very grown-up black dance shoes. None of your silly girly-sparkly-spangly stuff on these little feet, but proper bona fide jazz pumps.
There's a girl who takes her dance class seriously!