Is Sex Grooming On The Rise?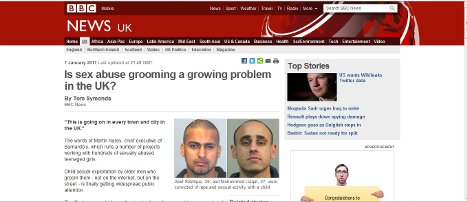 The BBC article on sex abuse grooming being a growing problem in the UK yesterday really got to me, and I've not been able to shift it from my mind since.
The article explained that the grooming of young people for sex is not limited to the internet, but that gangs of men are doing so on the streets of the UK, offering girls (and probably boys) alcohol, drugs and lifts. Mohammed Shafiq, chief executive of the Ramadhan Foundation made an incredibly sensitive claim in a BBC interview two years ago: that "although there have been some cases of white men being involved in this sexual exploitation of young girls, most of the perpetrators are Muslim." (which Jack Straw refuted, stating that prisons are full of overwhelmingly white sex offenders)
I personally know two rape survivors – one by two Africans and one by a white man – so there's no call for suddenly demonising a whole, large, group of British citizens and residents.
I do agree with Mr Shafiq on one thing about the rapists though:
"These people think that white girls have fewer morals and are less valuable than our girls."
I lived in Malaysia for a while, and I would spend hours a day in a local internet cafe. Malaysia is a primarily Muslim country, and most of the men and boys in the cafe were Muslim Malays, since we lived in a very Malay area (as compared to Expat, Chinese or Indian). What surprised me most – although oddly never made me feel unsafe – was that of the twenty or so computers, there would without fail be at least ten on pornography sites. One day a young boy, around 11 years old, approached me and asked me if I would "teach him how to play sex".
Obviously, I declined, but when I discussed this with an adult friend, he told me this was a common thing: I was white, therefore promiscuous, just like the girls they saw on the internet, American TV and movies. I was shocked, but saw the cultural stereotype.
Mr Shafiq rightly says, however, that "No community or faith ever sanctions these evil crimes and to suggest that this is somehow ingrained in the community is deeply offensive."
The fact remains, that rape – no matter your colour - is simply not acceptable, and these rapists are targeting the vulnerable.
These pages from the BBC, DirectGov and British Columbia's Ministry of Children and Family Development have useful tips on how to protect children from abuse, and what to do if you expect abuse.
Who was it that said "What we do to children, they'll do to the world"? I don't remember. But it has never been more true.