Ooh, it's not often I'm right, but I'm right!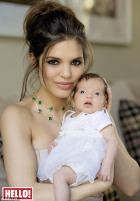 Remember my prediction that England footballer Joe Cole and wife Carly were keeping their baby daughter under wraps because of an exclusive deal with a glossy mag?
Well, Ruby Tatiana Cole is proudly presented in the current edition of Hello! magazine. Very cute she is, too.
Personal trainer Carly says she left the decision about their daughter's name up to husband Joe, as a thank you for his support during her labour, which last 16 hours.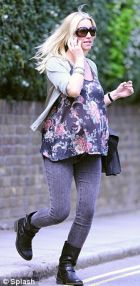 I wonder if Denise van Outen will be doing the same, when her babe arrives?
With only 2 weeks to go until her due date, Denise is still rocking the groovy Mama-to-be look.
She's also still hard at work and today launches the npower Climate Cops Green Fingers Campaign.
It's a scheme to help primary school children understand environmental issues, with the chance to win a growing makeover for their school, worth £5000.
Denise and husband Lee Mead are said to be expecting a little girl and in a recent interview with Closer magazine she claimed she is in no rush to get back into her pre-pregnancy clothes; "Luckily I haven't ballooned during pregnancy. I still go power walking three times a week with my personal trainer Nicki Waterman. Although I want to get back into shape gently, there are a couple of things in my diary that I would like to look nice for – I've got David Walliams' wedding a couple of weeks after the birth."