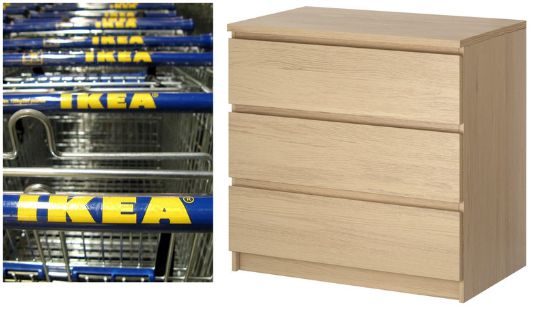 As we reported last night, Ikea in the US are giving away millions of free repair kits to anchor furniture to the wall and prevent tipping accidents after the death of two children.
Although most large pieces of furniture like chests of drawers, wardrobes and tall bookshelves do come with wall fixings Ikea US are issuing replacement ones to customers in the US who request one for certain items of furniture.
Last night Ikea UK was flooded with requests from concerned parents who wanted to get wall fixing kits for their furniture to prevent similar accidents happening to their children, and now you can request them.
Call Ikea UK on 0203 6450010 (UK) or 01 5413302 (ROI) to request a free restraint kit if you do not have the original one that came with the packaging.
Talking to the Daily Mirror this morning Gerard Bos, IKEA UK and Ireland Customer Relations Manager said this:
Product safety and quality are top priorities for IKEA. Furniture tip over is a serious safety risk in the home, however IKEA chests of drawers and dressers are safe to use when assembled according to the assembly instruction and attached to the wall using the restraints provided in the packaging of these products.

IKEA is committed to raising awareness of the hazard of furniture tip over and in many IKEA markets, including the UK, we are running a safety awareness campaign called "Safer Homes together - Secure it!" in order to raise awareness of this issue. As part of the ongoing campaign, IKEA US, in cooperation with the US Consumer Product Safety Commission, yesterday announced a free wall-anchoring kit program.

IKEA already provides tip over restraints and instructions with all floor standing units that are purchased which are required to be fastened to the wall. Warnings about the importance of using the tip over restraints provided are included in the assembly instructions which give step by step instructions for their use. Information about furniture tip over restraints is available on the price tag on display units, in IKEA store signage and online.

The best way to help prevent furniture tip over accidents is to secure furniture to the wall. IKEA urges customers to inspect their IKEA chests of drawers and dressers to ensure that they are securely anchored to the wall. Should any customer be concerned about their furniture, they are welcome to contact us on 0203 6450010 (UK) or 01 5413302 (ROI) to request a free restraint kit if the original one was disposed of.
This is going to be welcome news for parents who have this furniture in their children's bedrooms, myself amongst them. If we hear any further new we will let you know.