George At ASDA Sale Starts On Wednesday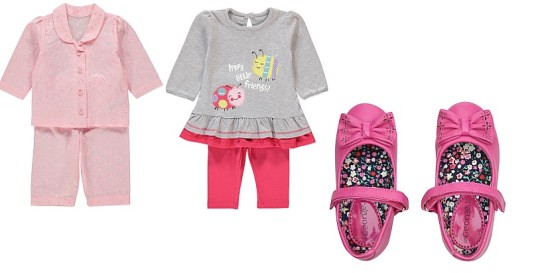 Yes, it's another sale at ASDA, with discounts and savings on George. If you head over there now you'll only find a few clearance items in the different sections, but on Wednesday it should all be moved to the clearance section which will make it all easier to find. Right now you could check the categories individually and sort the products by price low to high so that all the discounted things show up at the start.
Although these aren't currently in the sale section, they're obviously on sale and are perfect summer pyjamas*. They're reduced from £7 to £4, and I'd grab them now, while they're still in stock in sizes 0 - 12 months.
We're also loving the Happy Little Friends Slogan set with tights*, available in sizes 0 - 18 months, and reduced from £6 to £3.
Or what about these cute little cut out bow ballet shoes*, reduced from £7 to £4. They're only available from infant sizes between 4 and 6 and stock's already quite low, so move fast if you want them.
Remember this is just a little #sneakytip for you - there'll be more to follow on Wednesday.