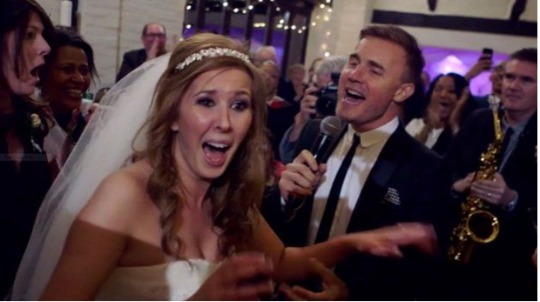 This caught our eye in the news - Gary Barlow has tweeted that he will sing at 3 weddings this year - and all you have to do is stalk him on twitter!
The tweets were these:
Each year I receive thousands of requests to sing at someone's Wedding!

In 2015 I want to sing at 3 weddings

The only deal is they have to be HUGE fans

And all you have to do is stalk me on here
Of course there's been a massive reaction, with one fan even tweeting that she'd have to go and find herself a future husband first!
In 2014 he suprised a fan by singing at her wedding after a long twitter campaign by the maid of honour, (that's the lucky lady on the photo above), and he obviously got a taste for it.
So are you getting married this year and fancy having Gary Barlow as your suprise musical entertainment for your guests? Or do you know someone who is a huge fan who might decide to pop the question to get Mr Barlow along? You might need to hurry though as he's tweeted that he's "one wedding down" already, so there's only 2 chances left!
Get tweeting!