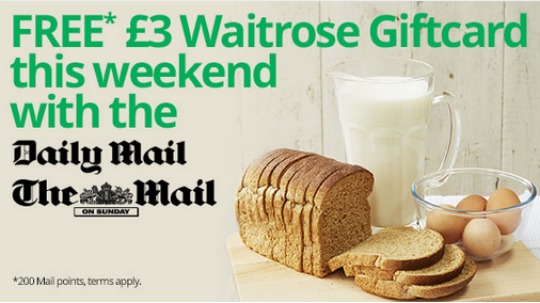 Do you like to shop at John Lewis or Waitrose? If so then grab a Daily Mail newspaper tomorrow or a Mail on Sunday and get you can get a FREE £3 Giftcard that is redeemable at John Lewis or Waitrose stores.  The Mail on Sunday is £1.50 and Saturday's Daily Mail is 90p, so obviously you are better off buying tomorrow's paper to get the best deal but if you buy the paper anyway it won't matter which day you buy it. There are steps in which you must follow to get your freebie.
Here's how to get your FREE John Lewis/Waitrose £3 Gift Card:
Buy tomorrow's Daily Mail or the Mail on Sunday and locate your unique number. It's on the back page.
Join or Log into MyMail, here.
Enter your unique code on the John Lewis/Waitrose Gift Card MyMail page. You must do this before Tuesday 3rd March or you will lose out.
Your gift card will be delivered to your front door in 28 days.
Terms and Conditions: Members of MyMail have until Tuesday, 3 March 2015 to save 200 Mail Points. The £3 Waitrose/John Lewis Gift Card has no expiry date. One £3 Gift Card per member. UK only. Subject to availability.