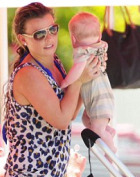 As well as being a WAG, Colleen Rooney is famous for going on holiday on a regular basis. But according to the current issue of Hello! magazine, her hols aren't quite what they used to be. Colleen and Wayne recently took their son to their villa in Barbados for his first holiday but it was reportedly far from relaxing. She admits "When I used to go on holiday I'd just sit on the sun-lounger and not move, because I love spending time in the sun, but now I'm up and down keeping Kai entertained. It was so different to any holiday I've ever had before because you've got someone else to look after."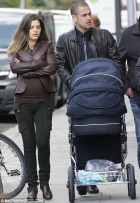 Also in WAG world, Carly Zucker and Joe Cole are still keeping their baby's name under wraps. Before Carly gave birth there were reports that they had settled on the name Scarlett but the couple have yet to make any public announcement about the name they've chosen for their daughter.
They've also managed to stay out of the way of the paparazzi, with no photographs yet appearing in the papers of their newborn baby girl, although the couple were snapped strolling around over the Easter holidays accompanied by precious cargo.