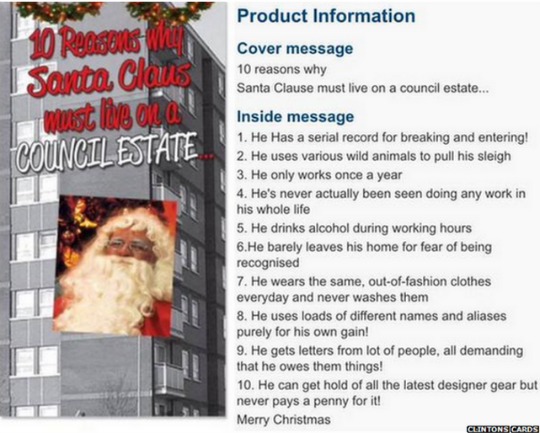 I had the radio on yesterday and I couldn't believe my ears, that Clintons had been selling a Christmas card so offensive that it had to be removed from the shelves. The laptop got switched on immediately, as I just HAD to find out what all the furore was about.
Wow! That is one controversial Christmas card! You can see it above and read the content of it. It is comparing Santa to those that live on a Council Estate. As someone that has previously lived on a very rough council estate, that is littered with crime, I could not believe my eyes.
It doesn't make me feel upset, but it certainly makes me feel uneasy. In this day and age, how can it be possible that a card with such a cutting message can be placed on sale at a time of year that represents goodwill?
On scouting the internet, I have came across MANY comments that are of opposite opinion to mine. People stating that the world has gone PC (Politically Correct) mad and that it's just tongue-in-cheek banter. Is this just another acceptable piece of humour that stereotypes council estate residents, like Shameless is?
There's already a massive divide in society at present, does this sort of thing inflame the situation or do you agree that it's just silliness and a bit of "cheeky banter"?
We would LOVE to here your views on this matter over on our Facebook page.