Ok boys, this is one post to skip if you're not into your celebrity baby go
ssip. See where it says CELEBABY up there in blue? That's a little indication that this is a post about, um, slebs and their babes. So if it's not your cup of tea, feel free to scoot back over to the manly gadgets on HUKD or go and debate the off-side rule.
Ooh but talking of the off-side rule... ladies, just when I thought the celebrity world must have decided to give up making babies as a 2010 resolution, I give you Exhibit A: Carly Zucker. A pregnant celebrity, at last. Well, sort of. She's a WAG and that'll have to do,  at least until someone 'A' list gets round to it.
Wait a minute, what do you mean you don't know who she is? She's married to Joe Cole who is some sort of footballer, apparently. Anyway she's a couple of months away from her due date which gives us plenty of time to predict the suitably-slebby name that this WAG and her HOB are likely to choose for their offpsring. Any guesses? I'm guessing Cole or Tucker probably aren't on the list. Cole Cole? Or Tucker Zucker.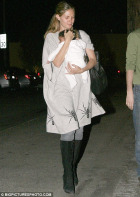 In other CELEBABY news, Heidi Klum is launching not one but two maternity wear ranges. She had this to say about it:
'I am excited to announce that I have designed two maternity collections: Lavish by Heidi Klum for A Pea in the Pod® and Loved by Heidi Klum for Motherhood Maternity®. The two collections are all about making pregnant women feel as great and fashionable as I did during my 4 pregnancies. The collections will be available starting February 12th in A Pea in the Pod, Motherhood Maternity, and Destination Maternity stores and online.'
Sigh. If only all it took to feel great and fashionable during pregnancy was a snazzy outfit designed by a Supermodel and Celeb Mum of 4, eh?