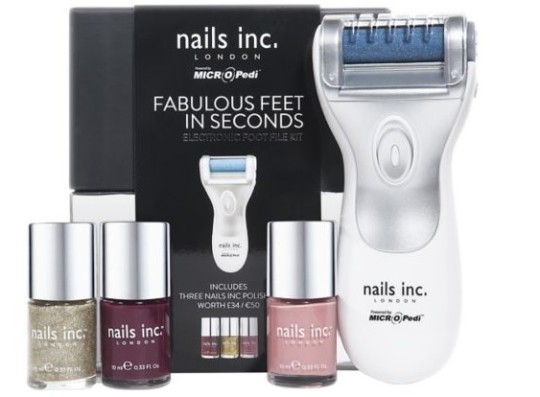 The song used to be, "Christmas is coming, the geese are getting fat" but now we can change it to "Christmas is coming, Boots Star Gifts are on the shelves"... or something like that. I'm not much of a song writer, but I do know that the season is coming and last year you all loved the star gifts! The first one for this year is the Micro Pedi Power Set with Nails Inc, reduced from £79.99 to £29.99, saving £50.
The ever popular MICRO Pedi unit is branded with 'on trend' Nails Inc. to create a fabulous gift set this Christmas. This kit contains everything you need for fabulous feet in seconds. The electronic foot file powers mineral rollers to gently buff away hard skin plus three nails inc polishes.
The MICRO Pedi Technology is a battery operated foot file and hard skin remover. The micro-mineral rollers rotate 360 degrees, 30 times per second, and gently buffs away hard and rough skin, leaving your feet amazingly soft and smooth - a friend who owns this confirmed it for me!
Included in the gift set are three fabulous Nails Inc. polishes - Oxford Gardens, Uptown and High Street Kensington worth £34 themselves.
You will need to add 2 AA batteries, so grab those at the same time.