Save On Pregnancy And New Mum vitamins @ HealthSpan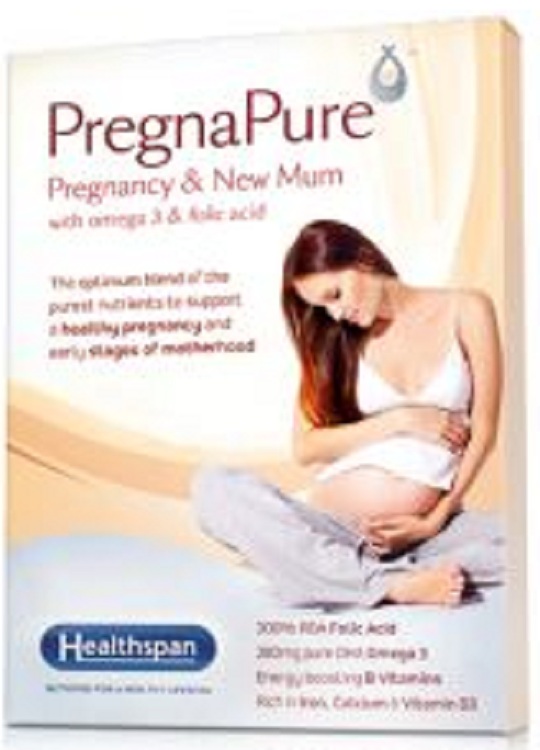 PregnaPure gives you the perfect range of essential vitamins and minerals to support a healthy pregnancy, early stages of motherhood and breastfeeding for only £7.96. Normally £9.95, Health Span have slashed  £2 off this perfectly balanced supplement. Delivery is charged at £1.95 if you can wait for up to 10 days or  £19.95 if you need your supplements within 3-4 days.
I was absolutely dog-tired from the moment I fell pregnant until my daughter was about 6 months old. That's 15 months of my life that I can barely remember.. After some research I found out that pregnancy and life with a new baby is a nutritionally demanding time for your body. Enter PregnaPure Pregnancy & New Mum® tablets which is a specially formulated multivitamin and mineral tablet that's been combined with a capsule containing the purest Omega 3 fish oil. This unique dual formulation has been expertly developed to help safeguard your dietary requirements during pregnancy right through to the early stages of motherhood and breastfeeding. Each tablet contains:
•Folic Acid which supports neural tube development and normal maternal tissue growth during pregnancy
• A selection of B Vitamins for blood formation and reduction in tiredness and fatigue
• High levels of Iron & Copper to help normal oxygen transport in the body
•  Calcium & Vitamin D3 to help with the normal maintenance of bones and to support breastfeeding.
•  The Omega 3 capsule provides the highest quality fish oil to support a healthy pregnancy and has been shown to support your baby's brain and eye development.
So don't be like me and let 15 months of your life pass in a blur, order your PregnaPure online or call their Freephone number on 0800 73 123 77 today and get this multivitamin for only £7.96.