Babymule Changing Bag Review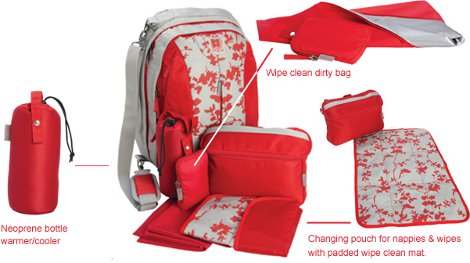 My first thought on the Babymule changing bag was that it's just too big for me. There are too many pockets and I'll spend my whole day digging around it to find things, because I have the organisational skills of a gnat – when it comes to nappy bags, anyway.
But within a couple of days the Babymule really grew on me.  Especially when I realised that I could use one of the compartments as a laptop bag, negating the need to carry one with me.  I had a day trip organised to London shortly after I started using the Babymule and there again, this fantastic shoulder-bag-come-backpack was a godsend.
Not only was there enough space for a whole day's worth of reusable nappies, wipes, jumper, and toys for the train journey but also a mid-sized camera and a laptop, as well as my make-up bag and purse.  The bonus of this was that when I was carrying my daughter, I was able to clip in the shoulder straps, and carry this as a backpack, which was wonderful. (I also remember when we used a sling with our daughter, I often bemoaned the fact that there weren't any backpack nappy bags, so I'm thrilled to finally own one!)
Included in the changing bag are a neoprene bottle warmer/cooler, a wet bag, a changing pouch for a few nappies or wipes and an easy clean changing mat. There's a front pocket, a side pocket with a key ring, two large compartments with internal pockets. There's a hidden back pouch in which you can store the backpack straps, meaning the bag looks tidy when not used as a backpack as well as hidden buggy clips with adjustable straps. You can watch the video to see how it all fits in together.
I love the way it looks too. It's a very pretty bag, but not in a baby-ish way. The only negative I have found is that the main compartments don't unzip all the way,  so you have to work through a relatively narrow opening, which I struggle with as it means I have to unpack the big things to get to the little things at the bottom.
The BabyMule is a fantastic overnight baby bag though, and awesome if you have a mobile office on the go as it's big enough for a large sized laptop too.