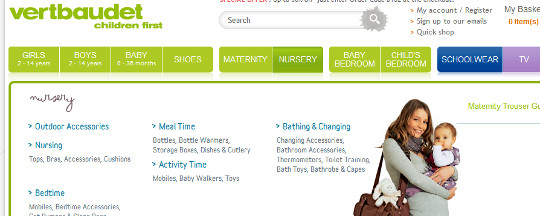 Vertbaudet is something of a favourite around here, and we occasionally post deals – as often as we find them – from this French company that launched in the UK in 1997.  When they sent us a baby sleeping  bag to review, I was rather chuffed. I was paging through their catalogue a few weeks back and must admit I love so many things I could quite easily go quite broke.
Vertbaudet stock baby clothes, boy and girl clothes in ages 2 – 14 years, shoes for children and maternity clothes. They also sell gorgeous accessories for baby and children's rooms as well as school wear.
You know how every brand has their 'themes'? Well, the ones you'll find here are so cute and unlike some other brands, there's loads to choose from.
We received the Hide and Seek All Seasons Sleep Bag, with an inquisitive little lion peeking out from a pouch. My French is, well… non-existent, but a bit of a Google search says it means something like 'hide me' – which makes sense with the Hide and Seek theme.  The back has a monkey on it with a very long tail and a bunch of other French words that are leaving me feeling rather uneducated!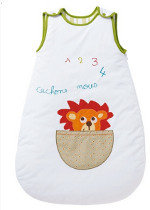 It's really beautifully done though. The images are appliquéd and embroidered, the colours are bold and bright and the stitching is neat and tidy. There are no labels in the neck and shoulder areas, only in the legs area, which is good for not causing itchy scratches. The zip opens up all the way down the side, round the bottom and a little up the other side, making night time nappy changes easier.
The shoulder studs are reinforced on the inside, which makes them sound tough, but they're actually super easy to open and close. This particular sleep bag is for 6 months to 2 years but it fits my very large five month old – at this stage she hasn't figured out how to open anything yet, so I'm not sure how easy she'll find it if she's still using it by the time she's two.
This is called an All Season's sleeping bag, which I'm a bit confused by, because it's a 2.28 tog, which I don't think is very high (in comparison to duvet togs) but that said, the note that comes with the baby sleep bags – with advice for safe use – says that that's suited to a room temperature of 10C to 20C, which I guess is fairly standard for most homes all year round. Of course, if it is really cold or really hot out you could adapt the pyjamas to suit.
They say that the zip has a childproof slider, but I have no idea what that means! It looks like a normal zip to me.
Despite the gorgeous trimming, the cute image, the bright colours, the striped interior and all that, my favourite thing about this sleeping bag is the feel of it. It's like a luxury duvet. It's similar to a silk duvet my toddler has, and much, much nicer than anything my hubby and I sleep under. It's incredibly light considering its size and 'bulk'.  I have a few of baby sleeping bags still knocking about from when my oldest was my only and none of them are as nice as this one. This one also cost a fair bit more, but… right now I'm  having a hard time thinking that it's not worth it – it totally is.
I also like the life-span. Aged 6 months to 24 years, the sleeping bag from Vertbaudet is great value for money.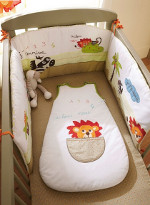 The Good
Well, all the things I've said above really:
Gorgeous craftsmanship
Very cute
Fantastic quality
Long life span makes it value for money
The Bad
To be fair, the 'bad' is pretty much across the board for baby sleeping bags – it's expensive, and has almost no resale value. There are always shelves of them at the local Nearly New Sale, and they don't sell particularly well, despite the fact that they cost next to nothing and often have been barely used.
The Verdict
There is no doubt that I love this sleeping bag. With the benefit of hindsight, I would have bought two of these really good quality ones and not bothered with a bunch of cheaper ones. If the rest of Vertbaudet's products are as yummy as this you can't go wrong.