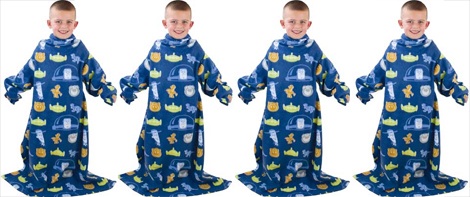 As the evenings grow darker and the beautiful shades of autumn fade in to the dark cold of winter, the thought of snuggling up close in front of a log fire – okay, the television – becomes more and more appealing.  A snuggle blanket per child from Argos at only £7.99 should go a long way to reducing your heating bills this winter.
My little girl has always been a very active sleeper, kicking and tossing all night long. As a result I was always worried that she would be cold until I invested in a baby sleeping bag. Not only has it become a part of our sleep routine, signaling bed time, but she also never wakes from the cold anymore.
Aimed at older children, this fleece snuggle blanket has sleeves to keep the arms warm and is long enough to keep those toes covered too. It is made of 100% polyester and is machine washable at 40C and can be tumble dried – hmmm… I love putting on warm clothes after a bath.
I also really like the idea that a child can be transferred from the lounge or the car to bed wearing this blanket and never being exposed to the elements.
Although these are currently out of stock online, you can check your local Argos to see stock and availability and reserve for local pickup.
Thanks to clgay at HUKD