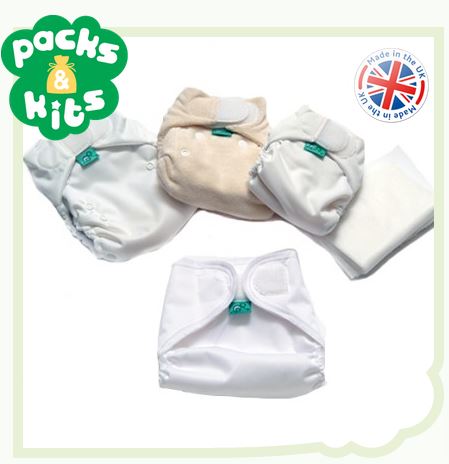 Totsbots have a fantastic offer on their trial kit with the code below.
Try out reusable nappies at an excellent price from Totsbots
Discount: £23 and free delivery
Discount Code: WTRIAL
Totsbots are a fabulous brand or reusable nappy. I've used different styles with both  my girls, and they are still among our favourite nappies.
Just like grownups buy trousers from different places because the fit of one label may be better for one person than another, nappies are pretty much the same, and what works for one child may not work at all for another. This applies even in families - my oldest had no problmes in Bambinio Mio, while my youngest would leak almost every time. So the best thing to do if you're thinking of starting out in cloth nappies, trial kits are the way to go.
This trial kit from Totsbots includes the very cute Teenyfit, the regual Easyfit and the award winning Bamboozle (we have about 14 of these, they are wonderful!) If you buy the trial kit like this, you save 5% by buying them all together. With the discount code, you take another 50% off, bringing the total to £23, including postage. That's a really great offer, especially when you consider that you're also getting a size 0 (newborn) wrap, and 10 flushable liners.
Thanks to Kaosfusion at HUKD