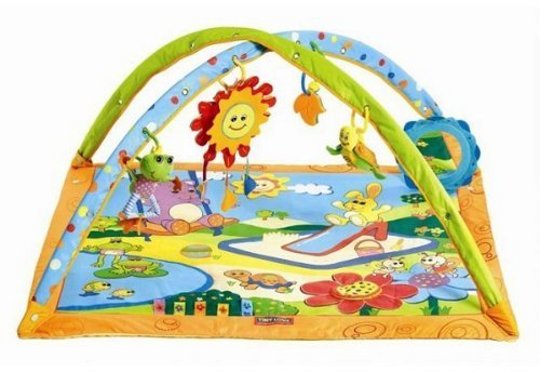 East Coast Nursery do some lovely item for babies, and this Gymini Sunny Day Tiny Love Play Gym is no exception, selling at half price on Amazon. At just £24 instead of £48, you simply can't go wrong!
With fun hanging toys, abundant developmental activities on the mat, and a musical sun, the Gymini Sunny Day will encourage baby's development and attract their curiosity, whether on their tummy or on their back.
The play gym has a tap and play sun with three different tunes, different textures and a peek-a-boo flower. The dangling toys include a turtle rattle, a jitter frog and leaf teether. These can be moved and rearranged by hooking them to the arches' rings.
Extending tummy time is essential to furthering baby's physical development and was a life-saver for us when it came to colic. Gymini Sunny Day' s engaging features encourage longer periods of comfortable play on baby's tummy, while playing with the dangling animals and trying to grab them help develop her fine motor skills.
The Tiny Love Gymini Gym is suitable for babies from birth. It is machine washable and can be easily folded and packed.
Thanks to ichayan at HUKD