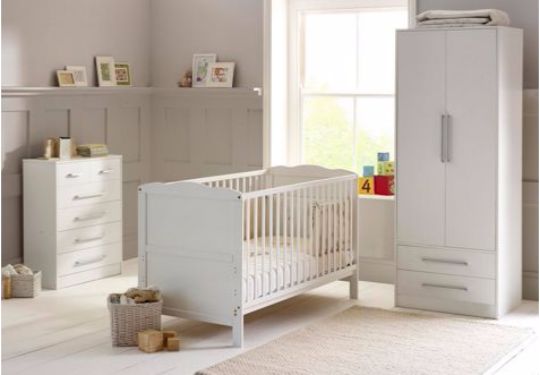 If you are looking for a good value nursery furniture set then this is the best price I have seen for a good while. The Saplings Kirsty Nursery Furniture Set was £349, but now has an extra 25% off making it £261.74. But if you use the code FURN15 at the checkout you get another 15% off taking the price down to £222.48 - and that includes FREE delivery!
This is a three piece nursery furniture set and includes a cot bed, a wardrobe and a chest of drawers. All the furniture comes in a neutral design and white colour, and all comes flat packed for home assembly.
The cot has three mattress heights that you can change as you baby grows, and it converts into a toddler bed when they have outgrown their cot. Toddler beds are suitable until around 5 years of age so this furniture will last you until your child needs to move into a full sizes single bed, and for £222 I think that's great value.
This is an online exclusive item, and is only available for home delivery, but that is free for this nursery set, saving you another £8.95. For the postcodes I have checked it looks like delivery will take up to 21 days, so if you are in a big hurry to decorate the nursery this might not be the best option. If you have plenty of time to go and are willing to wait then this is worth a look.
If this set isn't quite what you were looking for then that code FURN15 will take 15% off ANY indoor furniture, and it works on top of all existing offers. There are some half price Mamas & Papas sets that look marvellous value too.