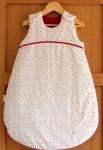 Green Child have a selection of baby sleeping bags on offer, with many of them being half price.
My eldest will be 16 in a few weeks, he isn't a fidget. When he was a baby you could put him in his cot, tuck him in and he'd be in pretty much the same position come the morning.
My daughter will be 15 in a few weeks, she IS a fidget. When she was small you'd tuck her in and within 10 minutes the blankets were off, tuck her back in and within 10 minutes everything was off again.
There were no such thing as baby sleeping bags back in the mid 90s; thank goodness the bright spark who invented them had done so by the time my youngest was born, he was born with a Phd in fidgeting and put my daughter to shame!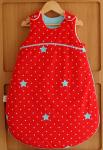 Such a genius creation (one of those 'why didn't I think of that' ones) which is guaranteed to keep your baby warm during the coming chilly winter months, and warm babies don't wake up before they wanted to because they're cold which means more sleep for YOU!
The sleeping bags from Green Child are made from organic cotton and are usually £28 each, the ones on sale are £14 and delivery is free for all standard UK orders - hurrah!
Thanks to magpieno1 over at HUKD