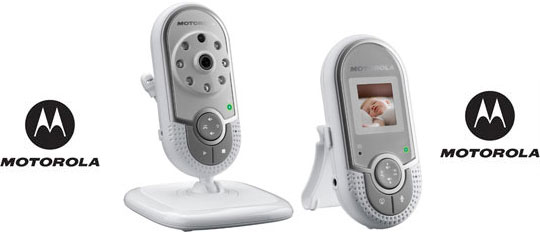 Home Bargains win today's low price prize for this Motorola MBP20 Wireless Video Baby Monitor - they're selling it for £49.99, the full price is usually £79.99.
This really is a very good price for the Motorola MBP20 Wireless Video Baby Monitor, Amazon are selling it for £63.99 at the moment, Comet for £66.99 and Mothercare the full retail price.
When my eldest son was born, I had a Tommee Tippee baby monitor that had an arc of lights across the top that would light up when he made any sound - this was high tech at the time!
Next came the baby monitors with sensor mats and we all marvelled at this new way to keep tabs on our children as they slept; then came the video baby monitors.  I don't know if I'd buy one or not, oh who am I kidding!  I'd TOTALLY buy a video baby monitor if I was in the market for a baby monitor, especially for this price.
The Motorola MBP20 Wireless Video Baby Monitor is wireless and has a 200m range.  The screen measures 1.5 inches and will switch to infrared mode when it's dark, so you can keep an eye on your baby 24/7.
It also plays three lullabies, has a two-way communication feature and displays the temperature in your baby's room too.
If you have a Home Bargains local to you then you can go and collect your Motorola MBP20 Wireless Video Baby Monitor for free in-store, otherwise it's likely to cost you an additional £2.95 for delivery.
Happy video monitoring!