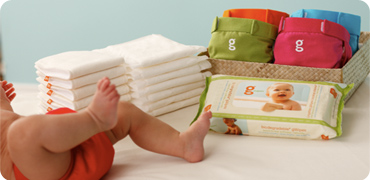 gNappies are a hybrid cloth and disposable nappy system that allows users the best benefits of both.
They are a 3-part nappy - the gPant, pouch and gCloth or gRefill - and are quite different to any other nappies on the market. To start with, you need gPants. These are the outside bits that you can see. They are colourful, although the majority of the g-Range is quite plain. That said they have started bringing out some beautiful gPants in the last couple of years and every so often they bring out a limited edition - currently the gSweet which we were sent is available to buy (£14.95) and the Christmas edition, gJoy is available to buy too. If you're travelling this Christmas, these are a fantastic alternative to disposable nappies. 

The gPants have Velcro tabs that open to the back, making it harder for older little hands to take off their own nappy.
Inside the gPant you place a waterproof pouch. This is the pouch that the absorbent part of the nappy is kept in. It is made with a breathable technology that allows the skin to breathe, reducing rashes. The pouch clips into the gPants with small clips, with the idea being that you can quickly release the pouch and clip in a new one so that  you don't have to wash the whole set - just the pouch and cloth, if you're using. This gives you a smaller load of washing too, and as they're plastic-like, they dry pretty much immediately. I must say though that with a small baby, and new baby poo, you end up washing the whole thing more often than not as that poo just goes everywhere. It's when the poo becomes a bit more solid that these really come into their own.
Inside the pouch you have two options - cloth or disposable. The gCloth is a gorgeous soft absorbent four layer microfleece and hemp/cotton material that provides absorbency to keep the wet inside the nappy and off the skin.
gRefills are plastic-free, biodegradable disposable inserts that have no elemental chlorine, no perfumes, no smell, no garbage, and no guilt. They come in two sizes: small gRefills fit small little gPants, medium/large gRefills fit both the medium and large little gPants.The best thing about these disposables are that they are biodegradable. There's a video on the website showing these disappearing in 50 days. As compared to the ordinary disposable nappies that will stick around four  our great grand children's grandchildren, these are amazing.These are not flushable in the UK's Victorian plumbing.
gNappies have two major benefits for me - new born merconium and travel. The TinyG's are very small, but perfect for a newborn. With my baby we had two of the Tiny gPants, and we used a bag of gRefills (£9.99 for 40). By the time the bag was done, we moved into ordinary cloth nappies and never had a day's hassles with merconium.
With my eldest, who was also in gNappies, we traveled to 18 countries with her in the disposables too, because they were easy to dispose of and the small parts are easy to wash and quick to dry. It takes no longer than ordinary clothes or pants.

Another benefit of gNappies is that they are a lot smaller and less bulky than ordinary cloth nappies, even if you're using the cloth inserts. This means that you don't have to worry about age appropriate clothing being the wrong size because of a bulky nappy, which is another bonus.  Additionally - while this isn't so much an issue right now - these are brilliant nappies for summer time as they don't have that extra layer that can be really warm.
The only real 'down side' of gNappies is that they are really expensive to start off with. Your gPants will set you back about £18 each, the pouches are £16.95 for a pack of six, and  you want at least 2 to 3 per gPant. Then you need your gCloths which are £22.95 for a pack of 10 and again, you want one per pouch. If you're going to be using disposables, they're £9.99 for 40, which is only slightly more expensive than the leading brand disposables, but those often have special offers, which these dont. Also, if you run out you can't just pop to the supermarket to get more so you have to be a bit more organised.If you use gNappies for two years, or for more than one child, the saving will be huge over term, but it is a very big outlay. I've really had to build up my collection over time.
I use gNappies as a suplimentary system, and they are our travel nappies of choice, particulary because I don't feel guilty about switching to disposables, and secondly because the bits that you keep don't take up a huge amount of hand luggage space.
We love our gNappies and I'd love to buy some of the gorgeous little dresses and rompers that come out with the limited editions from time to time. They are just stunning too.
The Good
Environmentally friendly nappies
Good for keeping bottoms small and similar in size to disposable nappies
REALLY easy to use - pretty much identical to disposables, which is good for daycare providers
Love the flexibility of cloth to disposable and back again
Very cute limited editions
The Bad
Huge initial outlay
Disposables can be hard to find and generally only order them online
The Verdict
We've been using gNappies for over two years, and have taken them to 18 different countries with us. That should really speak for itself.