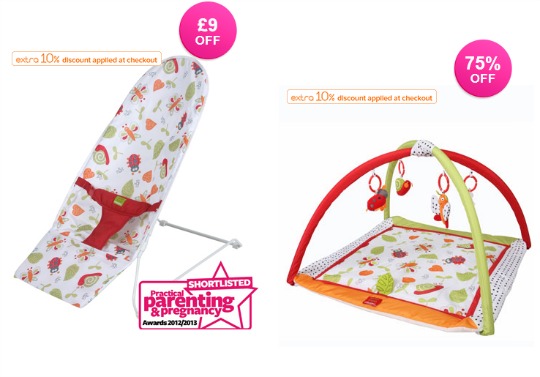 Even with the £2.99 delivery charge both of these are still a bargain price from Kiddicare.
It's been a while since my daughter needed either of these but I know for a fact I paid a lot more than this. Both delivered will cost just £15.12 which is pretty amazing.
The playgym was originally £30 and as you'd expect is suitable from birth. It features the garden friends design and comes complete with detachable toys. Out of 104 reviews it scores 4.5 out of 5 with comments such as:-
My son loves lying on this play mat, he reaches out for the toys that hang down & enjoys the different noises that they make. He also likes the noises the mat makes in different places as he moves around on it. It's so easy to assemble & to put away after. There's nothing that I can say is wrong with the product. Good value for money.
The matching baby bouncer was originally £14.99 and again is suitable from birth until around 6 months. Award short listed by Practical Parenting & Pregnancy in 2013, it again scores 4.5 out of 5 based on 118 reviews. A typical comment is:-
My 3 month old is really happy with this having tried battery powered swings etc this suits her more. She likes being relatively upright and is easy for Mum n Dad to bounce using the footplate. Excellent value too!
That's the one thing to note with the chair, a few reviewers felt it rather upright for a newborn so something to bear in mind.
If you're buying these for yourself, or as a spare for grandparent's house, I don't really think you can go wrong at this price. As a gift, I'm certain the recipient would think you'd spent a lot more too!