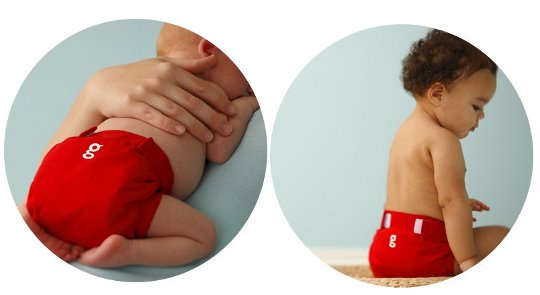 gNappies are the new cloth nappy to hit the UK. They're a hybrid cloth and disposable as the outer layer and inner 'pouch' are reuseable, and the filler on the inside can be either a biodegradable, compostable disposable inner or a reusable cloth inner.  For the month of February, gNappies are offering a Baby Buds Massage Oil with every purchase of a Good Fortune Red little gPant (the outer bit.)
gNappies are expensive to start off with, but the savings along the way are on a par with any other cloth nappy. Additionally, the savings on the environment if you choose to use the disposable options are amazing as the disposable inner breaks down and disappears within about 50 days, rather than the roughly 500 years a regular nappy takes.
So, if you head over to gNappies and choose a Good Fortune Red gPant, a bottle of Baby Buds Massage Oil will be included in your order without you having to do anything else.
Have a browse around their website – my favourite feature of gNappies is that they're about the same size as a regular disposable, so your child doesn't have to wear 'bigger' clothes just to fit with cloth bums.