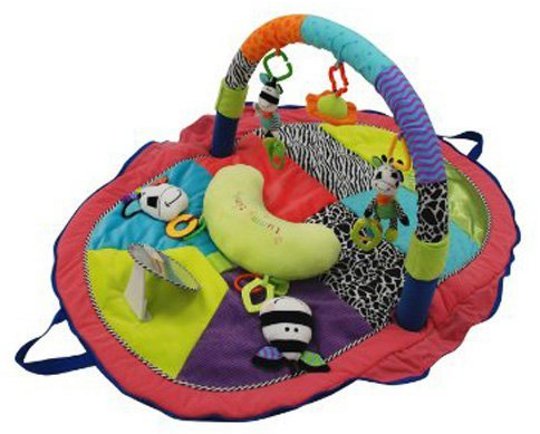 The East Coast Nursery Tummy Time Travel Play Gym is currently £14.99 at Amazon – 50% off from £29.99 and, of course, free delivery.  It's £18.95 at Kiddisave and as much as £29.99 at other places.
Tummy time has to have been one of the saving graces in my early newborn days of motherhood.  It caused the most 'old man' sounds to come out of my little girl – which was fantastic as it put a quick end to colic.  What I hate though is that every friend I've visited since who had a play gym, had the exact same one, so I got rid of it and am looking for a new and uncommon one for the next baby. Now, I know that's silly, but there you have it.
This play gym has bright colours and patterns and entertaining activities are designed to develop by providing stimulation.  It includes three characters, toys and a mirror as well as a support cushion and toy bar which can be removed and the mat folds up for easy storage.
I think it's lovely, and I think it's a great price too!
Thanks to andywedge @ HUKD