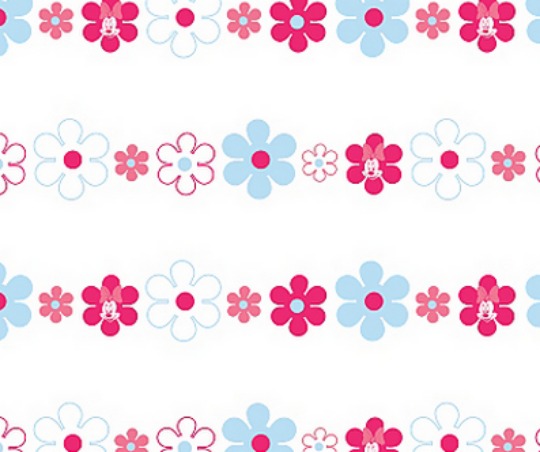 This is a bit of a random deal, but if you have a little girls room to decorate then look no further as Asda Direct are selling Disney Minnie Mouse Bows & Daisies wallpaper for only £2.50 a roll. It was originally £7.50 each and it's £16 for one at Debenhams. This is a bargain and might just be an option for those of you wishing to freshen up a room on a budget.
Minnie Mouse has been popular with kids, specifically girls for decades.  I loved her when I was a young pup, all those many moons ago. Even if your daughter isn't a fan of Mickey's girfriend, don't worry as her presence in the wallpaper pattern is quite discreet. Really, what stands out are the pink and blue daisy flowers.
This Disney wallpaper is wipeable so you can get rid of any of the children's grubby mitt marks. It apparently easy to strip when you decide to redecorate. What I like about it is that you could use this as a feature wall paper or use it for all of the walls in the room, because this is a great price per roll.
It will match lots of colours and Minnie Mouse accessories are easy to come by. Check out this Minnie Mouse night light from B&Q*or this light shade*.
The Disney Minnie Mouse Bows & Daisies wallpaper can be collected from your local Asda store for free or you can have it delivered for £2.95