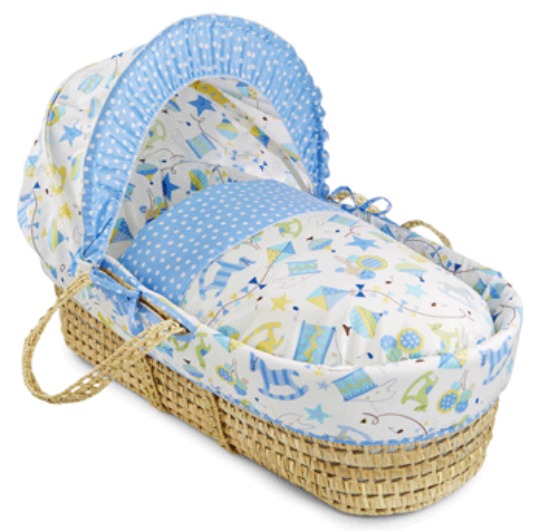 Are you on the lookout for a Moses Basket, or perhaps you know someone who is. We have found a really great deal on one. Kiddicare have the Clair De Lune Toy Shop Moses basket for only £17.99. I don't think I have ever seen one this cheap before. For this very same one, you would be looking at £40+ elsewhere.
There's nothing cuter than a tiny little newborn all nestled into a pretty Moses basket. This Clair De Lune Toy Shop one is no exception. It's blue so would probably be preferable for a baby boy, however it's not overly boyish. The basket itself is hand crafted using natural palm leaves. This lovely baby bed comes with a reversible coverlet.
The fabric on this wonderfully priced Moses basket has a toy shop theme, with patterns of rocking horses, spinning tops, drums and kites. Now, it doesn't come with a stand but many don't. If you do need a stand then pop down to your local Home Bargains as I have seen them for £15 numerous times in there.
Delivery for this Clair De Lune toy shop Moses basket is £2.99 or spend £29.99 and get it delivered for free.