Character World Toy Story 3 Duvet £8.50 @ Amazon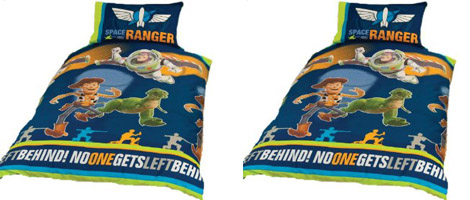 Toy Story 3 was not what I expected at all and really did come in as my number one summer movie so this duvet cover touches a button. Down to only £8.50 including free delivery from Amazon, this Toy Story 3 duvet set will make a fabulous Christmas present.
While I am sure that Lotso Bear is going to be the Christmas present du jour this year (are there any other Hot Toys? Let me know…) this duvet cover is bound to make some Toy Story fans very happy indeed.
The cover has No One Gets Left Behind written all along the end with a Space Ranger logo on the pillow. Buzz is zooming across the skies while Woody and Rex and running along the middle and the army dudes are crouched along the bottom.
There is no sign of Jessie though, which both amuses and annoys me. None of the "boys" branded stuff for Toy Story 3 has her on it. It's as if gender differentiation has to extend to removing girls from merchandise for boys. Madness.
Thanks to goonertillidie at HUKD!