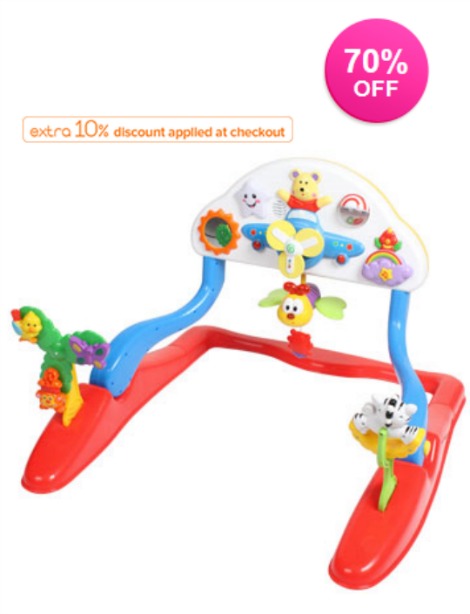 Reduced from £34.99 and now £9.44, including the £2.99 delivery charge this will cost £12.43 delivered.
This may have a great reduction but these types of gyms tend to be quite big, so bearing in mind the huge amount of stuff that babies actually need, is this an essential or something that will be purchased only to gather dust in a corner? Let's try and figure that out.
It's suitable from babies around 3 months, or that's the recommended age according to Kiddicare, and your baby can play with it either lying down or sitting up. Looks like it has a ton of cool features including a light up star with music, changing light patterns, removable rattles and that all important mirror for your little one to check out their reflection. It's only been reviewed 3 times but every reviewer gives it 5 out of 5.
For me as a parent, this was probably the type of thing I found most useful when my daughter was little. If I wanted 5 minutes to grab a coffee or answer the phone, big ambitions eh?, she would happily amuse herself with this. I love the removable rattles too, ours didn't have that but I'm sure they would have been a big hit. Babies generally love lights, textures and sounds and although we didn't have this particular gym (we paid a lot more) I genuinely found it to be money well spent.
For me this was an essential and at £12.43 delivered I guess it's not going to break the bank if you find out otherwise. Don't forget to check out the Garden Friends playgym at £6.74 and matching bouncer at £5.39, along with some other Kiddicare bargains.
What have you found to be most useful as a parent and what's been the biggest waste of money? We'd love to hear your views.