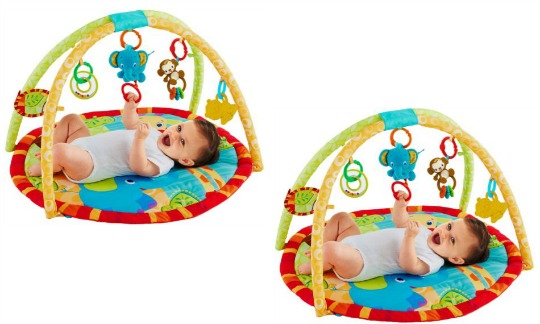 I love buying presents for friends that are pregnant. Babies are costly and my mother in law bought us a baby gym for Daniel, which was a great help as they can be costly. So, if you are pregnant or know someone who is then you may want to check out the Bright Starts Jammin Jungle Activity Gym from Argos. It's reduced from £29.99 to just £14.99. A super deal if you are needing one.
The Bright Starts Jammin Jungle Activity Gym has a 4.6 star rating as it is bright, colourful and fun for those little babies. It's suitable from birth so like I said it would make a great New Baby Present.
It has animals that dangle from the gym frame so that baby can play. The elephant can play a melody when struck, the monkey and the tiger are great for biting on when baby has sore gums from teething.
The colourful mat base is padded and can be machine washed which is good as baby puke a lot.
You can collect and reserve the Bright Starts Activity Gym for FREE from your local Argos or pay £3.95 to have it delivered.