(EXPIRED) Bright Stars Pink Sweet Safari Play Gym £16 Delivered @ Amazon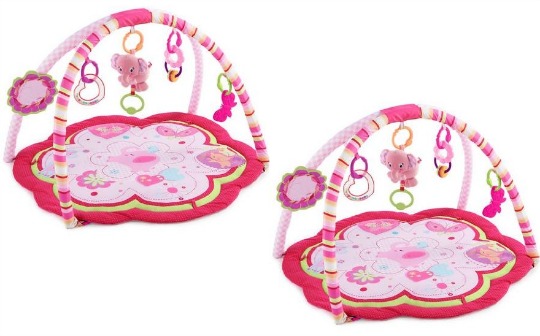 This Bright Starts Pink Sweet Safari Play Gym flew off the virtual shelves of Asda George, when it was priced at £16. Panic not for we have found the same highly rated Play Gym for the same bargain price of £16 at Amazon. This would set you back £49.99 at Toys R Us, how crazy is that? That is a saving of £33.99. Absolutely incredible! Oh, and not forgetting that you get FREE delivery from Amazon too!
Having read the reviews about the Bright Stars Pink Sweet Safari Play Gym on Amazon, it's easy to see why it's selling so fast at £16. For a start it's gained over four stars, and reviews suggest that it keeps baby amused and stimulated.
It might look pretty but basic looking but it's not. It plays music when your little one pulls on the elephant. There's a flower-shaped bead chaser, a flower-shaped mirror, a butterfly-shaped teether and a heart-shaped rattle.
The things I looked for in a play gym is all ticked off with this Bright Starts Play Gym. Machine Washable Padded Mat, Melodies, plenty of Toys attached and brightly coloured.