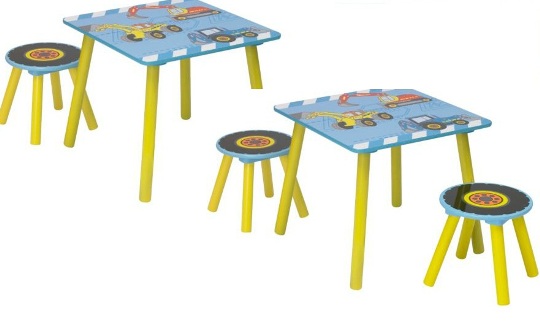 Not a bad deal this one, not bad at all. What you have here is a boys bedroom table and two stools on sale for £15.99. This is less than half the original price which used to be a pretty heavy £49.99. While I am sure that this is suitable for any child's bedroom (I am against gender stereotyping things) the table seems well worth the price.
The table is made from wood and is 44x50x50cm in dimension. It has images of tractors and dumptrucks and other such large vehicles printed on the surface and has four very yellow legs. It is pretty much perfect for sitting and drawing on, or doing homework or painting.
The two stools are round with four legs each, making them pretty sturdy, and they have been painted to look like wheels I think. The set is flat packed for home assembly and weighs a total of 6.3kgs. Kids from around 18 months to 5 years old can sit comfortably at them.
Thanks to Haylhoo at HUKD!