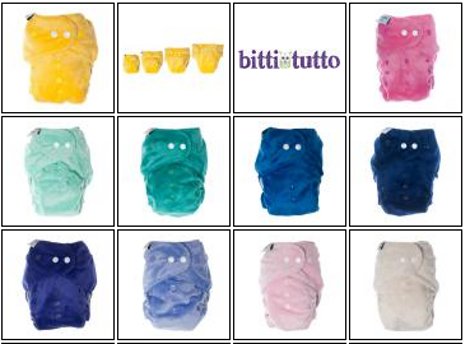 The Bitti Tutto range of reusable cloth nappies is reduced from £18 to £10.50 each at Cheeks and Cherries. Spends  over £45 will get you free delivery.
I have tried plenty reusable nappies in the 20-months my daughter has been around, but Ittie Bitti haven't made it our way yet – perhaps next time! The Bitti Tutto is the new Onesize Snap-In-One nappy from Itti Bitti.
The Tutto has a clever no bulk design, plus hip snaps to ensure a great fit at each of the four size settings.
These new Itti Bitti's feature a complete internal gusset to contain even the biggest explosions.
Each nappy is lined with stay dry suedecloth and comes with three bamboo/organic cotton soaker pads with Itti Bitti's signature colour coded snaps, so absorbency can be customised to suit each baby, which is great as it can be really confusing getting started on cloth. You can also buy extra soaker pads.
These are available in 18 different colours and the website has various short informational videos on how to use Bitti Tutto Reusable Nappies.
Thanks to ellemonkey at HUKD