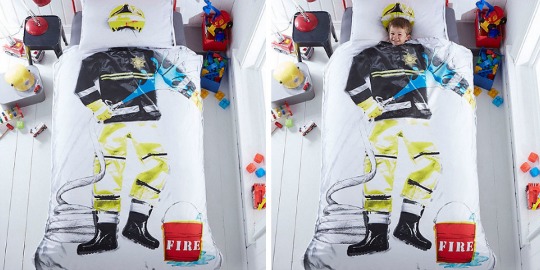 We know that essentials like bedding are expensive so here's a very reasonable deal from Debenhams. They have slashed the price of the Ben De Lisi Fireman bedding set from £28 to £16.80 and now it's only £11.20. Wow! A massive saving!
Included in this Ben De Lisi bedding set is a single duvet cover and matching pillowcase. It is very, very nice quality for money as it is 180 thread count. The material composition is 50% cotton and 50% polyester. Machine washable at forty degrees and can be tumble dried as well as ironed. Which just makes it easier when laundering it in minimal time.
The great thing about this set is that it has the potential to last. Isn't that what we all want? The look of it is far from babyish and it would be popular with young "Fireman Sam" fans right up to older kids. Debenhams have billed it a as a "Fireman" set but girls would love this one too I reckon!
This bedding set has been designed by Ben De Lisi, who is a renowned designer, that happens to look ridiculously like Ben Stiller. He really does.
This Ben De Lisi bedding set can be collected from your local Debenhams store for free or if you can opt to have it delivered for £3.99.