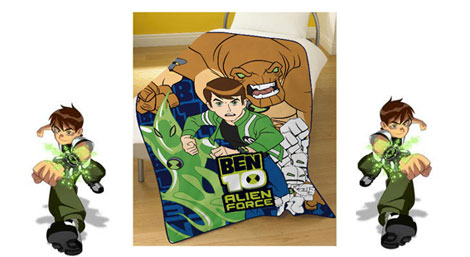 Tesco are selling this Ben 10 Alien Force fleece blanket for £4.00 instead of £9.00.
I know it's been warm(ish) of late and we can only hope there is more summer warmness to come - it would be nice if we could have a decent run of it though, rather than three days 'nice' followed by a week of 'naff' - BUT this is a great time of year to grab some warm fleecy blanket bargains in preparation for autumn and winter.
We have a daft number of fleece blankets in my house – they are just TOO useful!  There are a couple kept in the car to wrap up small people (or big people) when it's cold before the heaters warm the car up.
There are fleece blankets on the beds and a few spare in the airing cupboard for grabbing as and when; the cats and dog love sleeping on them too.
This Ben 10 Alien Force fleece blanket is great - my youngest has one and he loves to cuddle up under it on the sofa; last winter it was with him pretty much wherever he went.
It measures 125cm x 150cm, is washable at 40C and can be tumble dried too - although you can wash it at 30c and fling it over a radiator to dry and be a little kinder to the environment.
I don't know WHY you'd want to have this delivered to your home for the less-than-bargain price of £5.00, but you can if you want to, or you can arrange to collect it from your local Tesco store for free.
Thanks to lucerysmum at HUKD